Quality accommodation plays a crucial role in- one would say unforgettable vacation- and this is well known to the management of Hum hotels. Their most valuable assets include  Adria, Posejdon and Jadran  hotels. ­­­
Apart from the hotels, Vela Luka abounds with gastronomic, cultural and sports offer which enables its guests to fully enjoy the holiday of their dreams. In addition to the hotel offer, there is also a wide range of private accommodation available in Vela Luka including the most attractive private locations at the highest tourist standards.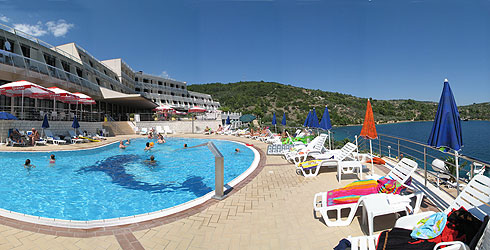 The secluded location and the beautiful surroundings of a peaceful Plitvine bay present one of the most wonderful features of the Adria hotel. Moreover, a breathtaking sea view will make your memories unforgettable.
Adria can boast with 127 well furnished rooms as well as an inviting outdoor swimming pool ideal for sunbathing and enjoying wonderful cool summer drinks. Aside from the swimming pool, there is a spacious terrace that would facilitate the escape from a hectic everyday routine even to the most stubborn workaholics.
Adria hotel – a Pet friendly hotel
Feel free to bring your furry family members along on your holiday. If you own a pet, it is highly probable that you do not want to leave it behind even during your vacation. Adria offers an accommodation as well as a dog friendly beach which should meet your requirements. Bringing your pet on holiday with you could be a priceless experience.
A modern two- storey- building – Posejdon hotel is no less appealing to your eyes. Aside from neat, nicely decorated rooms, it also guarantees a relaxing atmosphere on the beach, at Havana beach bar or at the terrace that offers a wonderful view of Vela Luka bay. There is also a diving centre in the vicinity of the hotel- great news for all sea enthusiastic as well as researches of underwater flora and fauna.
Guests of younger age will certainly be delighted with a simple, yet tastefully decorated Jadran hotel just five minutes away from the town center. Jadran, along with the first two hotels, boasts a very attractive gastronomic offer with many Dalmatian delicacies!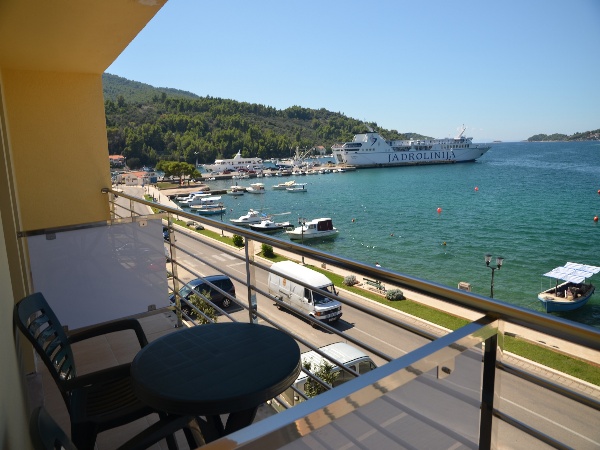 PET FRIENDLY VACATION DESTINATION! If you wonder why you should visit Vela Luka, bear in mind that this is one of the friendliest and the most accessible destinations in Croatia.
In addition, should you find the beautiful clear sea, or the proximity of the legendary islet of love – Ošjak, inspiring, you can also experience the kissing spot and share a romantic moment with your soul mate! This islet with its unique atmosphere, deprived of every trace of urban life, is only ten minutes- boat ride away from the town of Vela Luka.
We also believe that you surely do not want to miss the island of Proizd, whose famous Bili boci beach on its northern side was ranked by the renowned Daily Telegraph among the 5 most beautiful beaches on the Adriatic!
Furthermore, the sight of the white rocks plunging into the turquoise sea (aesthetics worthy of the visually most elegant Hollywood productions, such as those on James Bond) will become a true envy generator on social networks!
But that is not all – keep in mind that Vela Luka is also a destination that has a lot to offer to lovers of tangible and intangible cultural heritage – from the impressive Kumpanija – colorful sword dance and attractive mosaics in the town centre that you just cannot afford to miss, to the baba and dida (grandmother and grandfather- in Croatian) – extremely preserved skeletal tombs nicknamed by the witty locals. These are merely fractions of interesting attractions hidden by the intriguing cave site named Vela spila.
There are also stunning beaches and coves (which can be visited by boat trips), the regatta in honour of St. John, trekking race… Adrenaline lovers will definitely not be disappointed.
Finally, regardless of your preferences, by choosing Hum Hotels for your welcoming host you will experience a tailor-made vacation of your dreams!
HUM Hotels
Obala 2 br.1,  20270 Vela Luka Croatia
P. +385 20 812 246
Reservations:
P. +385 20 812 064
E-mail: info@humhotels.hr
Photo: Hum hotels, TB Vela Luka