On Brač the man and the stone live and create together since ever. For people on Brač stone is a true jewel. They take it out as the most precious treasure. From this treasure – white stone – some of the most colossal monuments have been created, like Diocletian's palace in Split and many churches and palaces throughout Dalmatia. But, Brač's stone is famous worldwide as well. It was used in decorating vestibule of United Nations building in New York, which makes Brač's people together with all other Croats very proud. It was said that parts of the White House in Washington were built also of Brač's stone, but there is no credible evidence for this. But, it's nice to believe so.
How are great works of art made? Or the small ones – souvenirs of Brač's stone? In Stonemason School in Pučišća great future artisans are trained – stone-masons who make true works of art. Gornji Humac in Pučišća, about 10 km from Supetar, is the cradle of stone-masonry and world-renowned sculptors. After three-year education, young students, among which there are also girls, leave the school, and after another three years of practical training they can take master exam. Then they can open their own stone-masonry workshops where they can freely let their imagination create worthy sculptures and souvenirs for tourist sale. Stone products and souvenirs are made by turning, chiselling, grinding, polishing and engraving. Stonemason School is open for visitors during summer, so everyone interested can see student's work.
If you are fed up with dull presents, set out to Brač, visit Stonemason School or order a souvenir according to your own wishes, like candle holders, ashtrays, vases, clocks or different figurines, and hard-working Brač's stone-masons will make everything in their power. Decorate your home with autochthonous Croatian stone which will, through the chosen souvenir, tell its story of ancient labourer's days in the island of Brač.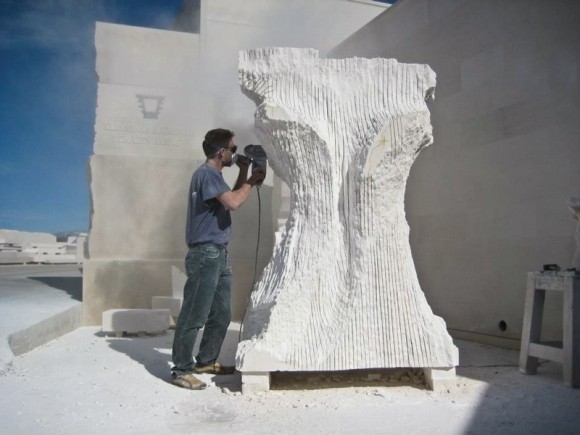 Photo: TB Split Dalmatia County