This post is also available in: Croatian
Meet the dishes which speak – all languages!
Unique locations, a perfect sea and beaches, and an abundance of cultural and historical heritage are common motives for guests from all cantons to rush to Split-Dalmatia County.
But here's a real straightforward experience and a delicious domestic ''table''of dishes, which combine Greek, Roman and Illyrian Mediterranean flavours with a magical touch of the orient!
In order not to deprive your palate of sensations worth recounting, we have prepared an attractive list of dishes worth tasting for you – the luxurious tastes of which speak – in all languages!
1. The Dalmatian peka. It's worth starting this list off with a real specialty – the softest and the most delicious meat ''under the bell'', paired with domestic potatoes and herbs! They are simultaneously cooked and baked under an iron bell, which provides the most delicious veal and lamb (or seafood delicacies like octopus!) ever.
Check out why meat baked in cities all over the coast, but also in the Dalmatian hinterland, enjoys the true status of royalty!
2. Pašticada comes a close second to the peka, the unadorned queen of all important events – for example, if you find yourself at a typical Split wedding, there is every chance that the meal sequence will involve this specialty of beef, veal or big game, with a portion of gnocchi sprinkled with sheep's cheese!

Sounds great, doesn't it? Don't miss out on this meal, and the traditional preparation of which that lasts for days!
3. Creamy risotto is most often eaten in Dalmatian homes as a delicious appetizer, and culinary connoisseurs know this meal is nutritious and delicious enough to be the main star of an attractive Mediterranean lunch!
We especially like the variation of cuttlefish, which besides its excellent taste, also captures attention with its unusual black colour obtained by the addition of cuttlefish ink!
4. Island Pogača (bread pie) is a true example of an indigenous dish that has formed the basis of island nutrition throughout history. Look for Vis, Hvar (forska), or Komiža pogača and feel like a real islander.
Komiža pogača is made up of a combination of sweet-sour tomatoes and salty pieces of fish, Vis pogača is made from a delicious dough topped with shredded anchovies or sardines, and the Hvar (forska) pogača will disarm any real foodie – namely, in addition to these ingredients, goat's or sheep's cheese is also hiding within it!
5. Sinj arambašići will always be served, in addition to delicious ingredients, with authentic local hospitality! These smaller scrolls of sauerkraut or fresh cabbage stuffed with a mixture of beef and pork, cooked for two days in a pot lined with pieces of dried meat or bacon, and they go great with a glass of bold homemade red wine!
6. The clean Cetina river is a real source of abundance and luxury on gourmet lovers' tables – try some river crabs and trout with grilled or a real delicacy – roasted frogs wrapped in prosciutto, smelling of rosemary and drizzled with wine!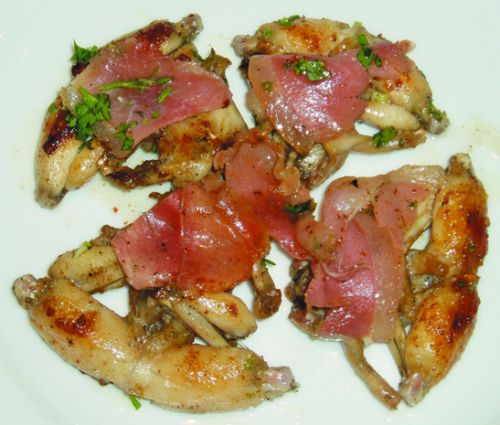 You will find specialties in the hinterland, especially in one small town – Trilj, which is a favourite destination for exhausted businessmen in search of sensations and refreshments for their palates!
More: www.dalmatia.hr
Photo: www.dalmatia.hr, croatia.hr, archive of tourist boards of Split – Dalmatia County
This post is also available in: Croatian